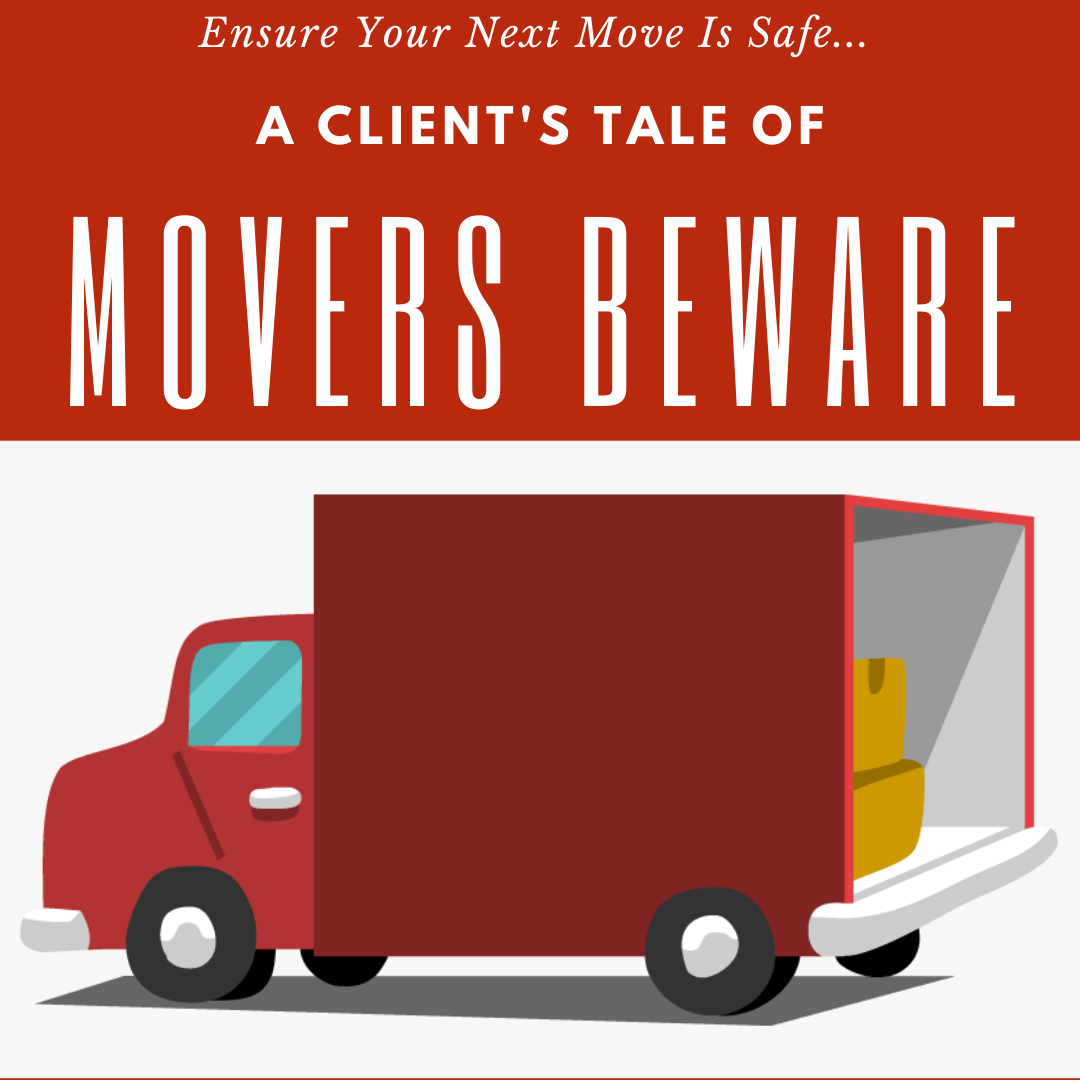 A Moving Scam Nightmare
Clients of mine wanted to share their tale of a movers scam they were involved with in the hope that it prevents someone else from suffering the same misfortune. Read on…
Our Moving Scam
My family and I recently relocated to Colorado from the Washington, DC area. We had a tight budget and short timeframe to make our move happen, so I turned to the Internet to search for moving companies. First, I thought I'd try to support local businesses. However, none of the local moving companies I reached out to offered interstate moves. I then broadened my search, privileging companies with solid reviews. I came across a 'company' with glowing, five-star reviews and reached out. They quickly quoted me based on an inventory I shared over the phone, and it was under budget. They further offered to not only gather our belongings at our condo, but also at our storage unit, and deliver it all to Colorado within two weeks. It was within our allocated budget and timeframe, so I quickly electronically signed a contract.
Unfortunately, the move that was promised to take two weeks and cost under $5,000 turned into a nightmare that lasted over six weeks and nearly double that amount. Moreover, once the Penske truck drove off with all of our possessions, the 'company' we were dealing with who had previously been so responsive wouldn't answer the phone. When we stopped payment on a check for a deposit we were fortunate enough to get assistance from a pro bono team of lawyers who helped negotiate with the 'company.' Looking back on it, there were red flags we missed. I want to share my experience so others do not fall victim to this crime.
How to Avoid Moving Scams:
Know what you have. It might sound silly, but once possessions are boxed up, it can be challenging to remember what you have and how much those possessions are worth. Having an inventory of your belongings and their value could also be useful for other purposes, such as if something breaks.
Get an accurate estimate of moving costs. Moving across the country is expensive, likely much more expensive than you think. Gather multiple estimates, making sure that the estimates are based on weight and distance, not cubic feet.
Compare the cost of moving your possessions yourself. If you have the time, you might want to consider doing the move on your own, with the assistance of moving truck.
Use a reputable moving company. If you are moving at your own expense, you might want to ask your employer which movers they have used for out-of-state moves.

Nationwide companies that are well-known with a long history, such as Mayflower, will likely have a physical office and staff in your state.
Reputable companies provide estimates only after doing an in-person, detailed inventory. If a fraudulent company, the estimate over the phone is likely to be deliberately low-balled to reel you in; only to double or triple once they have your belongings in the truck.
Reputable moving companies do not ask for a large deposit
Reputable moving companies to do not quote you based on cubic feet
Reputable moving companies have marked trucks with their DOT number clearly indicated (not rental or unmarked trucks)

Dig deep and triangulate. Some companies share fraudulent reviews-not only on their website, but also on other platforms such as Google and Yelp. Some also suppress bad reviews. Some companies can be registered as interstate movers, but still be fraudulent!
Be clear as to whether you are contracting with a moving company, who will do the move directly, or if the company is a broker who will bid the job out to others. If at all possible, avoid brokers, and deal directly with a reputable moving company.
Do not sign anything under pressure. Do not give into pressure/fear tactics and sign something you do not understand.
If you are the victim of a moving fraud, do not blame yourself. These are sophisticated operations and moving is not something most of us do frequently. These scammers have figured out how to work loopholes in the legal system, so you may find yourself frustrated with each agency you contact pointing you to the next one. It might be possible to recover your belongings, however, there are no guarantees.
Moving Resources & Tips
Protect Yourself From Moving Fraud

2